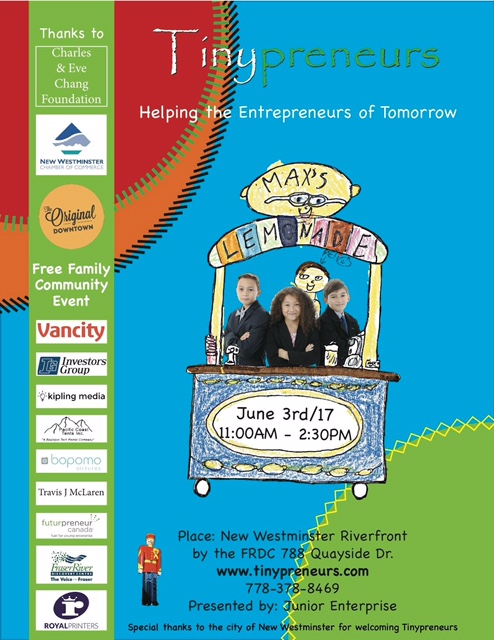 On June 3rd, 2017, from 11am to 2:30pm, we will be celebrating our first Tinypreneurs Event in the City of New Westminster B.C, right beside the FRDC, in the waterfront area shared as well by the River Market and the Donald's Market.
A group of talented children will be showcasing their business ideas and/or helping with their family's businesses.
They all will be learning the real life entrepreneurial skills and gain experience in what it takes to run their own business.
Please come to the event to be amazed with the effort that all these children have been putting in to their projects and support the next generation of business women and men of our future society.
Share the love!!
The Tinypreneurs event is an unique, innovative, philanthropic,and educational experience, for children as young as 7 years old to be exposed to the world of an entrepreneur. It will allow children and their entire family to explore and embrace the benefits of entrepreneurship from an early age, as well as showcasing their talent and creativity.
Our goal is to plant the seed that will encourage children not only to imagine their first business venture, but also to create the space to integrate the lessons of earning money from their own efforts associated with the pursuit of social responsibility toward maintaining a sustainable environment and being sensitive to the well-being of humanity and communities as a whole. The children who go through the program will treasure these valuable tools and use them for the rest of their lives.
This event is free to children from all walks of life, cultures and religious backgrounds and boasts a festival-like vibe, reminiscent of a lemonade stand. The children will be encouraged to brainstorm business ideas, and freely allow our children to express their ideas, work it out, and learn from their own experience of running their "own business".
Nila from Taslie Skin Care is always a useful-helpful hand for her family business , a natural & organic skincare company for babies and children. All their products are packaged in cute, fun, recyclable and biodegradable packing. Doctor recommended for sensitive skin, accredited Choose Cruelty Free and made locally in Vancouver. Nila supports The Canadian Sea Turtle Network in Halifax.
Sponsored by New Westminster Chamber of Commerce Vancity Investors Group Kipling Media Bopomo Pictures Futurpreneur Canada Arts Council of New Westminster Fraser River Discovery Centre Royal Printers Ltd Charles & Eve Chang Foundation Pacific Coast Tents Inc. The Original Downtown